[March 10th 2023]Capture the beauty of Taiwan with a camera! Hsinchu local photographer Liu Chun-sheng's exhibition is being held at Chung Hua University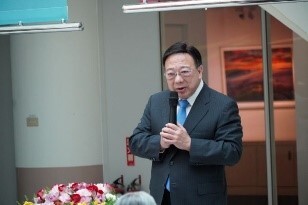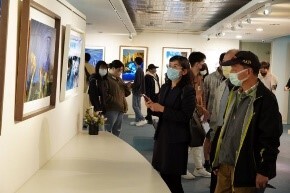 The 42 exhibited photographic works on display at the exhibition, which is Liu Chun-sheng's essential creation of 16 years of photography, show his passion for capturing the beauty of Taiwan with a camera. He is also skilled at using photography techniques to capture wonderful images of light and shadow, making his works vivid and beautiful.
President Victor Liu thanked Liu Chun-sheng for sharing his artworks at CHU. He previously volunteered six hours of photography classes at CHU's General Education Center in the 2010 school year and was enthusiastic in guiding students. Liu Chun-sheng loves to take pictures of Taiwan's scenery and humanities and is uniquely skilled in handling light, which is worth savoring for guests. In recent years, CHU's Art and Culture Center has been promoting the "Cosmic Art and Culture Corridor" and has online exhibitions on YouTube, welcoming guests from all over the world to admire the artworks.
Liu Chun-sheng expressed his gratitude to Chung Hua University for providing an excellent venue for him to hold the exhibition. For the past 16 years, he has devoted to photography as a profession, constantly improving his techniques. He loves to create light to illuminate the theme of his work. Photography details can be enhanced through techniques, and he personally crafted the frames of the exhibited works, hoping to impress the audience during the exhibition.
The "Building Light and Collecting Shadow" Liu Chun-sheng Photography Exhibition is free admission to the public and will be held from today until March 29th, Monday to Friday from 10 am to 4 pm at the Art and Culture Center on the 7th floor of the Administration Building at Chung Hua University. The exhibition welcomes people from all walks of life and all CHU students to visit and appreciate the light and shadow creations of Hsinchu's local photographer.
---
Photo1/CHU President Victor Liu expressed his appreciation for Liu Chun-sheng's love for taking pictures of Taiwan's scenery and humanities and his unique ability to handle light. He believes that the audience should savor every detail of Liu's work.
Photo2/ Opening reception of Liu Chun sheng's Photography Exhibition "Building Light and Collecting Shadows." The 42 photography works on the exhibition site showcases the essence of Liu Chun sheng's 16 years of photography creation.