[March 2th 2023]The President of Soka University flew all the way from Japan to Taiwan to sign the contract! CHU and Japan's Soka University establish a sister school relationship.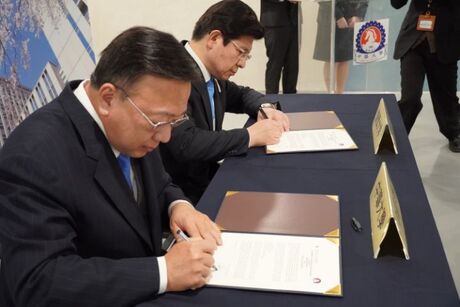 The signing ceremony was attended by Lin Zhao, the chairman of the Taiwan Soka Association, and the executive director Lin Ting-feng yesterday (1st of March). CHU's president, Victor Liu, warmly welcomed the distinguished guests. Both universities share the same philosophy of emphasizing moral education and believe that this exchange agreement signing can lead to closer cooperation and spark new ideas.
President Liu expressed his gratitude to Masafumi Suzuki for personally leading the delegation to visit and sign the agreement. He recalled his visit to Soka University five years ago, where he was deeply impressed by the beautiful campus. President Liu said that Soka University's emphasis on moral education has always been a model for Chung Hua University to follow. President Suzuki's emphasis on SDG education after taking office last year has also inspired the university. For example, the SDG event held by the Taiwan Soka Association at the university last semester was greatly beneficial to CHU, and so CHU will continue to follow Soka University's efforts to promote SDG education.
Masafumi Suzuki said that this was his second visit to Taiwan and thanked Chung Hua University for its warm hospitality. Although the past exchanges between the two universities have been affected by the pandemic, he was glad to have the opportunity to officially visit Chung Hua University after taking office as president in April last year. He believes that through the signing of this exchange agreement, the future exchanges between the two universities will be closer. He also looks forward to promoting further exchange and development with Chung Hua University.
---
Photo1/The two university presidents signed an exchange agreement between the two universities.
Photo2/ Both CHU's president Victor Liu (left) and Soka University's president Masafumi Suzuki (right) place great emphasis on students' moral education. They believe that through the signing of this exchange agreement, the two universities can work together more closely.